Introducing for the first time
THE NEW PC PAL
(Anti-Theft Device)
HOW VALUABLE IS YOUR INFORMATION?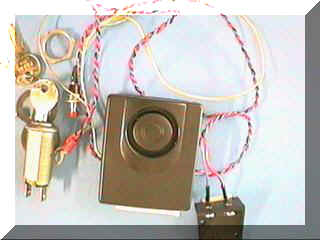 Designed to deter thieves with a loud 90 decibel alarm, concealed inside the PC, the moment anyone tries to steal your computer, the alarm sounds, it is totally self contained and functions 100% independently. There is no need to have your computer powered on, or even plugged into a power supply, so whether the computer is on or off it does not affect the PC PAL.
Once PC PAL is activated, it will continue to sound the alarm for hours until deactivated . Only the key will deactivate PC PAL, with a failsafe feature in case of accidentally setting off the alarm, it can be turned off within seconds with a built in reset button, keeping the computer armed at all times.
Features Include:
PC PAL is powered by a 9 volt battery in a easily accessible holder

With low power requirements, once triggered PC PAL will emit a loud continuous alarm for hours, in standby mode PC PAL will protect your computer for years to come

Included is a monitor to test status of the battery by touch of a button

Totally self-contained and independent, PC PAL does not depend on any valuable PC slots or power from the computer

If accidentally activated, PC PAL can be deactivated within seconds again by the push of a button

PC PAL is motion sensitive, however it can withstand normal computer use without worry of setting the alarm of accidentally, only when the unit is subjected to unusual movement will the alarm sound, such as lifting or abuse

PC PAL is activated with a unique key-lock, if maintenance is required, using the key will deactivate the alarm

Even if the computer leaves your premises, the alarm will continue to sound, drawing attention the thieves wherever they go. Making it the one of the most effective deterrents ever developed

Designed to protect more then just computers, it can be installed in virtually all equipment that is valuable

PC PAL is based on military technology, bringing the highest level of security to the consumer at a very affordable price of only $99.95 Cdn or $69.95 U.S
You can be rest assured that your data and equipment will be protected PC PAL 24/7
For More Information and Sales
Contact: PALSCOMPUTERS
Phone: 1-905-312-9059